EDIASI Jurnal Kajian dan Terapan Media, Bahasa, Komunikasi (p-ISSN 2721-9046 and e-ISSN 2721-0995) is published by the Center for Research and Community Service at Politeknik Negeri Media Kreatif (P3M Polimedia). MEDIASI is published three times a year, namely in January, May, and September. This journal aims to publish articles related to the latest developments in communication science, media studies, and languages in the creative industries.
Through MEDIASI, we want to involve all academics and practitioners who represent the three disciplines, from teachers, lecturers, students, researchers, writers, consultants, and everyone who wants to support and develop communication science, media studies, and languages. The entire work process of this journal is managed by the Editorial Board to ensure the publication of quality journals. Please see the author guidelines for preparing and submitting your manuscripts.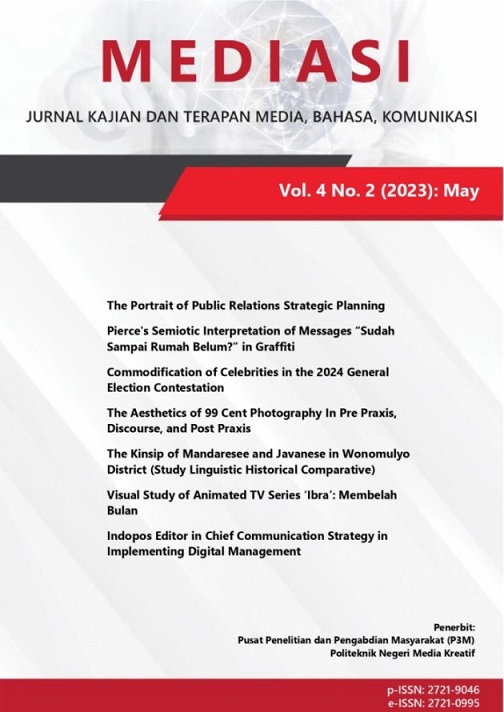 Announcements
No announcements have been published.
Vol 4, No 2 (2023): May
Full Issue
Table of Contents
| | | |
| --- | --- | --- |
| | Yuda Syah Putra, Irpan Riana | 103-118 |
| | | |
| --- | --- | --- |
| | Fitara Anindita Tito | 119-129 |
| | | |
| --- | --- | --- |
| | Lela Aprilia, Aco Nasir, Naim Irmayani | 147-158 |
| | | |
| --- | --- | --- |
| | Lani Siti Noor Aisyah | 159-173 |
| | | |
| --- | --- | --- |
| | Syarif Hidayatullah, Ahmad Toni | 174-187 |