ISSN 2548-9550 (Online) | ISSN 2548-9534 (Cetak)
DOI Prefix 10.46961 by  
Jommit is a periodical scientific publication is published by the Center for Research and Community Service at Politeknik Negeri Media Kreatif (P3M Polimedia). JoMMiT is published 2 (two) times a year. Jommit publishes scientific articles on research results in the field of Multimedia and Informatics, especially in the scientific group of Multimedia Technology, Application Design, Web Development, Game Development, Augmented Reality, Virtual Reality , Artificial Intelligence and other relevant scientific groups.
Journal title
JoMMiT : Jurnal Multi Media dan IT
Initials
JoMMiT
Language
English (preferred), Indonesia
Frequency
2 issues per year (June & December)
DOI
Prefix

10.

46961 By Crossref
ISSN
2548-9550 (Online), 2548-9534 (Cetak)
Editor-in-Chief
Yuyun Khairunisa
OAI Adress
-
Publisher
Politeknik Negeri Media Kreatif
Contact

[email protected]



Status
Acredited (Sinta 5)
Scope & Focus

Multimedia and Informatics :

Multimedia Technology
Application Design
Web Development
Game Development
Augmented Reality
Virtual Reality
Artificial Intelligence
and other relevant scientific groups.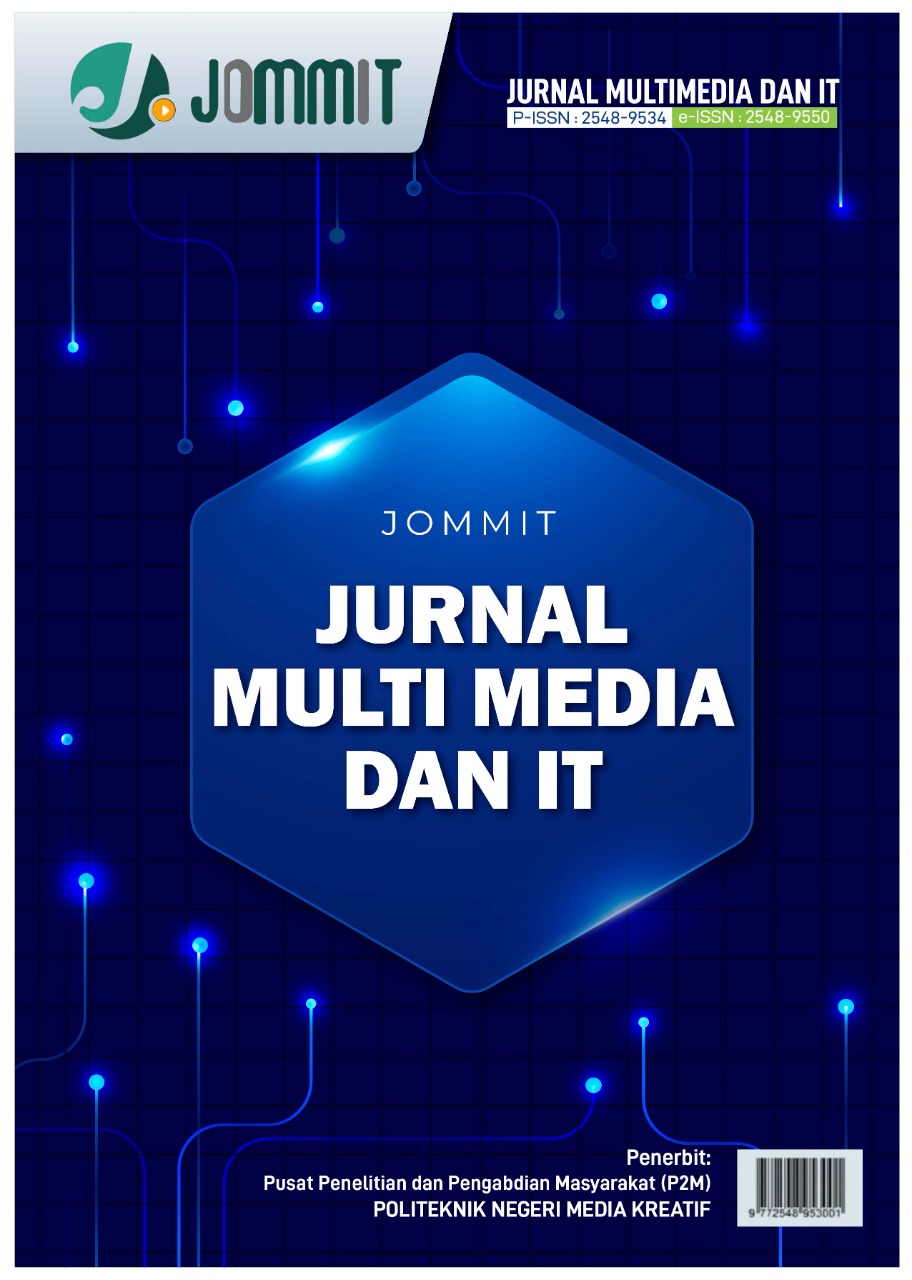 Announcements
Call For Papers

We invite you to publish the research and development of Multimedia and Informatics in JoMMiT : Jurnal Multi Media dan IT in the period :

Vol 7, No 1, June 2023 (Deadline 31 May 2023)
Vol 7, No 2, December 2023 (Deadline 30 November 2023)

Please send your full paper (*.doc or *.docx) via the REGISTER/LOGIN form.

ATTENTION:

Please submit using a good and correct Article Template

Reference at least 15, the last 10 years publication.
Recommended using Mendeley/Zotero/EndNote application in writing reference.
Plagiarism Check results a maximum of 20%. Upload the plagiarism result (*.pdf) in Step 4 as an attachment file at the time of submission.
Maximum file size of 2 MB.

Posted: 2023-05-10
Vol 7, No 1 (2023)
Table of Contents
| | | |
| --- | --- | --- |
| | Hellen Marlina, Hardika Khusnuliawati | 009-014 |
| | | |
| --- | --- | --- |
| | Muhamad Akrom, Usman Sudibyo, Achmad Wahid Kurniawan, Noor Ageng Setiyanto, Ayu Pertiwi, Aprilyani Nur Safitri, Novianto Hidayat, Harun Al Azies, Wise Herawati | 015-020 |
| | | |
| --- | --- | --- |
| | Yusnia Sinambela, Juwairiah Juwairiah, Nurianti Sitorus, Efrizal Siregar | 021-025 |
| | | |
| --- | --- | --- |
| | Tri Ika Jaya Kusumawati | 026-030 |
| | | |
| --- | --- | --- |
| | Freddy Yakob, Sanjaya Pinem | 031-035 |
| | | |
| --- | --- | --- |
| | Dewantoro Lase, Sudirman Sudirman | 042-047 |
| | | |
| --- | --- | --- |
| | Ahmad Mustajib, Ika Kurniawati | 048-057 |
| | | |
| --- | --- | --- |
| | Adryans Adryans, Reny Y Br Lumban Toruan, Ifah Atur Kurniati, Sari Setyaning Tyas | 058-063 |